Tuesday, May 17, 2005
Moving to Canada
How time flies...next month end, I'm gonna be moving to Canada. That's real soon...
some tears in my eyes for what I'm leaving behind...but also some excitment for what is ahead....some pics I grabbed to remind me of what's in store and ahead..:)
Tuesday, May 03, 2005
From the Sky to the Sea
Some memories.... i had hoped to be able to climb Mt Kinabalu again perhaps next year, but it seems that will have to wait somewhat with my impending move... so am planting a seed here to come back soon....
An awesome ...and daunting...sight.....Mount Kinabalu
Fantastic sunrise view...wish I could have taken a pic of the literally star filled skies during the night climb...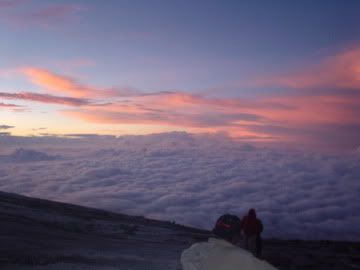 The relaxation after the climb...Manukan Island, Tungku Abdul Rahman National Park
Sunday, May 01, 2005
Moving Away..
After much sleepness nights, anxiety, cluelessness
It now appears that I will be going away .... maybe for good..
Perhaps this is meant to be....
Perhaps this will be a new start
Who knows?
Meanwhile I got to get prepped..got to get myself ready..