Thursday, July 19, 2007
woohoo
everyday I find more and more new things to do
am going hang gliding next month
woohoo!

Sunday, July 15, 2007
A quick review
Finally the Calgary Stampede is over. 10 days where every one seems to be dressed as cowboys or cowgirls and just being plain silly. Why not be one for 365 days instead? better what.

I got me a new job starting in Aug. Pays better.

and then today, got a Tornado watch for the city. huh?

A Tornado here? hmm......

makes the monsoon rains looks like masak masak play

Monday, July 02, 2007
Canada Day Weekend Bliss
I haven't had such a good time in years. No rushing around to view sightseeing places. No dates and timing places to meet. Just pack your gear and spend a weekend out in the woods
Eat, sleep, hike, banter around a campfire. Watch the stars at night. It's rather magical.
I haven't done a camp out since...hmm.... 1990. Egads! It's been that long since. Sigh.... what ever happened to the time?
@ Barrier Lake in Kananaskis Country
Ahhhh the "joys" of a heavy pack.... my camping campanions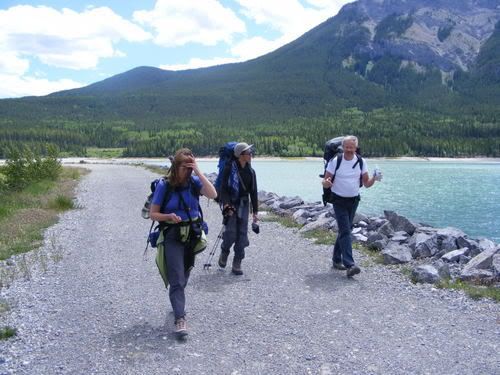 A park resident eyeing us
Our own private beach, the water was somewhat nippy for a swim...brrrr .. but I did go for a did, a traditional Canada Day plunge and to refresh after the afternoon hike.
My little home for the next 2 nights
Nearly forgetting how to cook in camp ....
Some pretty flowers along the way
A Whiskeyjack waiting to swoop on leftovers
A magnificent view from the top of the mountain where I also took a nap
The trail we came up on
It was very unforgettable.
Bliss :)