Sunday, June 24, 2007
All in a day's play
Sooooooo... I had my vacation, been up to my neck in toooo many activities, so sorta beat right now. Need a vacation to recover from the vacation.... sigh....
But anyways, the highlight of my week this week is that I got to go kayaking. My lordy, its been over 20 years (sob ... time flies...) since I've been in a kayak. Thankfully I still remember how to paddle, it came back to me like riding a bicycle. Actually it was easier than riding a bicycle, since the day before I was have my first go at mountain biking and that included hills, ravines and steeeep climbs. It was also my first time on a bike in 6 months so I was somewhat wobbly.
But back to my kayaking evening. It was a nice evening, a good breeze made sure the surface was somewhat interesting. Here we are getting our briefing before heading out.
But what made the day really was, I spotted this other kayaker who had capsized and we went over to help. Now its been a loooooooong time since I did a water rescue. Come to think of it, I've never done one except in practice, but it was amazing how things all just came rushing back. So here we are helping this bloke out of the water and back into the kayak. Mind you we were in the middle of the reservoir and the water is COLD.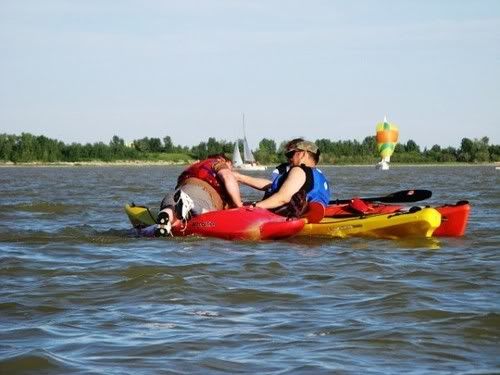 Certainly makes for an interesting day!
But I'm hooked, I wanna do more kayaking, ahhh the fun of starting life all over again.
Monday, June 04, 2007
:o)
This past week has been work, work, work, go dancing, watch Shrek 3, hahaha, back to work, work, bummer.....
But there is light at the end of the tunnel !
I'm going on vacation starting tomorrow !
I'm heading to Waterton / Glacier National Park for a week of hiking, kayaking and basically lazing around.
Ahhhhh'mmm a happy camper...yodelayeeyooo
Later blokes!