Wednesday, April 26, 2006
So lagged….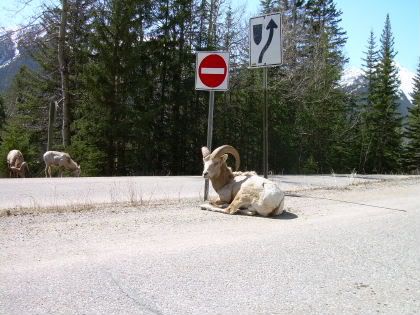 How I wish I could be like this Bighorn Sheep just laze around, this guy is big, sitting down and is already half the height of the signpost, standing he as tall as the car! Took the scenic route back home after my excursion to Banff on Sunday and came across him and his harem. I think if he charge my car, the car siong already. Lucky he just eyeballing me….
Boy am I seriously Jet Lagged.
Today is Wednesday and I'm still feeling the effects even though I came back on Saturday, 4 days ago.
I usually don't have it so bad. Maybe age is catching up,
Like now its 6pm and I'm like where's the bed?
I just wanna crawl into in and hide under the covers.
Coupled with a slight cold today;
A gout attack and being overloaded on NSAIDS as a result
It makes things really weird.
Floating around….
Yawnnnn….
Eyes wide shut
Comments:
when I went to London for 2 weeks, my internal clock went haywire when I got back as well. sleepwalking during the day, pinballing around by evening. took me 3 cups of coffee a day and a really good night's rest on the 4th day to straighten things out... well, about 80% at least. almost there, karipapboy!
Post a Comment
<< Home