Sunday, November 08, 2009
Hmmmm
It's been awhile since I've been back here. Maybe its about time!
It's time to train again. Focus Focus.
Woot!

Thursday, August 21, 2008
Yet another weather rant
The weather is crazy this week.
Monday we reached record highs here. Officially its 33.7C but my thermometer said 37C. Urrrgghh melting.. the dry air here makes it seem hotter as you don't sweat enough to help cool you down.....
Then today the temp is a high of 13C! In 3 days there is a temp swing of 24C according to my thermometer.
Its expected that this sunday the temp will rebound to 27C.
Like that also dunno how to dress. Shorts or longs? Bring jacket or not? Maybe I should go back to bear skins and fig leaves... Grrrrr

Tuesday, August 19, 2008
Alamak where the airconditioning
Hmmm I came here to escape the heat and the first long trip I take on the motorbike I get a heat wave, alamak like riding back in SG and MY like that...swelteringly HOT. Grrr
But first the trip.
Day 1
Left SG nice and late, stopped in Banff for lunch. Too damn crowded that place now. Scooted my way back to my old stomping ground of Lake Louise to refuel. This bike the range damn good. Even better than the old Goldwing with its supertanker sized gas tank. By this time I was flying again. After riding a scooter for 3 years before coming here and not riding for another 3 years after coming here, I thought I'd forget how to ride a bike and would be going slow. Nope, nada, no way. I was flying along like as if in my good old days of riding the GSXR. Woohoo! Ground control, one silver bullet coming your way. Of course nowadays, I actually look at the scenery more rather than just go from Point A to Point b in the fastest possible speed. But I was still overtaking everyone else on the road. What I'll also remember from the trip is the heat!!!!!!! Urrggh. Halfway on the way to Jasper, my old experiences from riding around Msia came back to me. Open the sleeve cuffs! Open the collar and unzip the jacket some!! (d'oh!) Cool off at the athabasca glacier! Between the glacier and Jasper, it was all a blur. I was squirming around already my butt having gone to Timbucktoo. Reach Jasper, checked into the hotel, went to the lounge, plunked down into a lazyboy with a beer and refused to budge after that...ahhhh... aircon....and beer.....
Day 2
Wake up, eat a full full breaky. Packed and headed back out to Calgary, 'cept I was going via Rocky Mountain House. I'd be turning off at Saskatchewan Crossing onto highway 11 to RMH then back to CGY. Heard there is some kind of lake between SC and Nordegg. Now it would have been a spectacular ride except by this point I was melting and so I was rushing to get to RMH and started to fly again. I had hoped Nordegg would be a bit more rustic and it was, but I was in no mood to hang around. Refueled and moved on. Nordegg to RMH was another blur of landscape. I was never happier to see a Macdonalds in RMH!!! Ahhhh the simple pleasure of a Quarter pounder, an apple pie and a large coke. Oh yes, cooling off in the aircon and resting my butt on a nice wide seat. That beemer has an enduro like narrow seat, great for the twisties, lousy for the straights...sigh.. good thing I had my Airhawk seat pad....The ride from RMH back to CGY, I passed through several quaint towns and when I reached CGY I got what I wished for! A big big thunderstorm!!! I and the bike was getting so plastered with bugs all over I was wishing for rain to a) Wash the bike b) Cool off. I got my wish!!!
1000 kms, 14 hrs riding in 2 days.
Now I just need to get out and ride more.....heh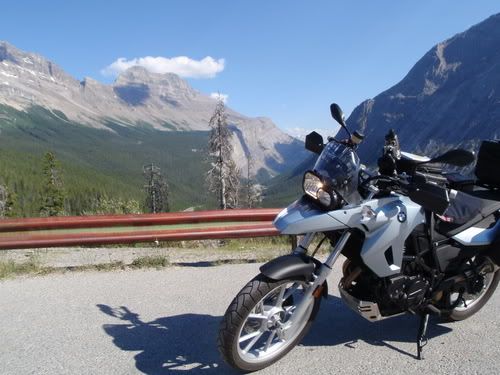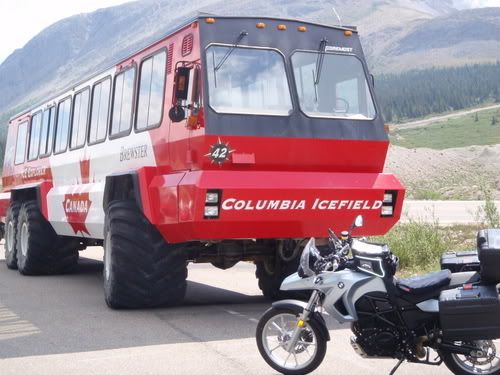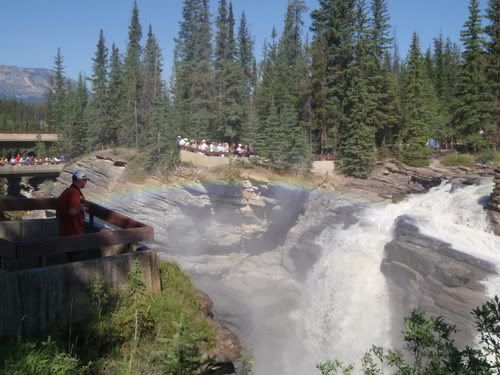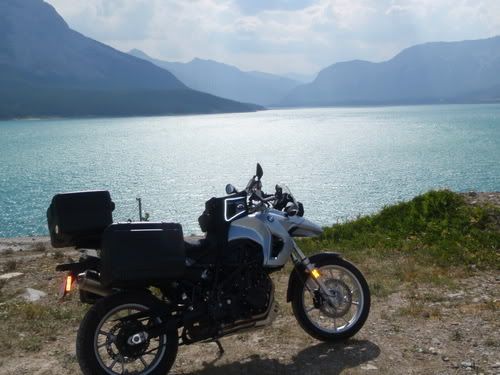 Tuesday, August 12, 2008
Weekend trip coming up!
So after having had the motorbike since May, its sad to say I haven't been on a long trip with it! I'm scratching my head wondering where I went wrong with that bit. So finally I'm getting to go somewhere this coming weekend. Up to Jasper, spend the night there and come back the next day. Should be about 950kms in total give or take a few kms. Will be a longish ride about 5-6 hrs each way depending on how long I stop for piccies, breaks and ogling at the odd scene here and there. Good thing I have my Airhawk seat cushion! But darn that my high windscreen isn't here yet. Oh well, will have to bring along more faceshield cleaner I suppose. Damn bugs.
Sunday, August 10, 2008
Yet another hike!
Dragging myself out of bed this morning, I went on yet a another hike! This one short but a not so easy one, 700m up over 3kms... oww, but damn good views
Wednesday, August 06, 2008
Hmmm I think I miss this sometimes
I miss this sometimes, being (sorta) anonymous and spouting all the rhetorics I can spout without worrying about who is going to bite you back (yes I just got bitten, this might be a knee jerk reaction). So I think I will sporadically be back here, occasionally, sorta like a summer cottage, you come, you go when you like, kinda thing.
Anyways had a crazy weekend, mainly because mentally I was not up for it, but anyways, managed to climb two mountain passes, Guinn's at 8000ft and Buller's 8200ft in altitude, gasp, gasp, need air in my lungs. Although the actual elevation climbed was more like 5000 ft in total since we started at 5800ft anyways (I've since been slowly getting used to the higher elevation here, Calgary is already 3300ft). One thing I did managed to do very well is twist both my ankles mainly cos I was being careless in where I was putting my feet....interesting since I haven't had that happen in a long time. Oh well, nothing like anti-inflammatories to kill that. But I think its time to move on from backpacking trips to motorcycle camping.....
"You mean we have to climb THAT thing?"
And away we go
The view at the campground
"Oh look a Moose!"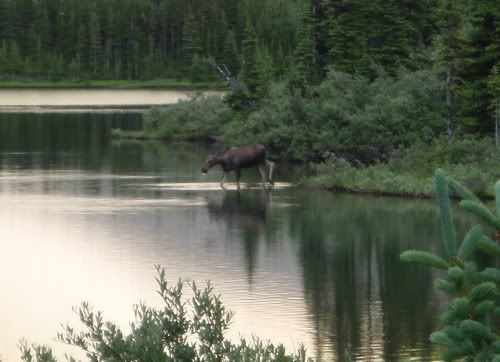 Goin' home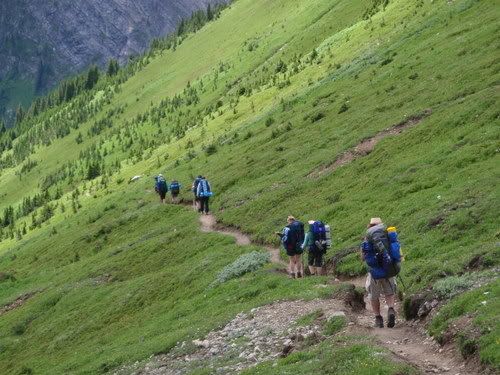 One of the many pretty little creeks we had to cross
Wednesday, June 25, 2008
Psssst usually at Facebook these days... heh