Tuesday, August 19, 2008
Alamak where the airconditioning
Hmmm I came here to escape the heat and the first long trip I take on the motorbike I get a heat wave, alamak like riding back in SG and MY like that...swelteringly HOT. Grrr
But first the trip.
Day 1
Left SG nice and late, stopped in Banff for lunch. Too damn crowded that place now. Scooted my way back to my old stomping ground of Lake Louise to refuel. This bike the range damn good. Even better than the old Goldwing with its supertanker sized gas tank. By this time I was flying again. After riding a scooter for 3 years before coming here and not riding for another 3 years after coming here, I thought I'd forget how to ride a bike and would be going slow. Nope, nada, no way. I was flying along like as if in my good old days of riding the GSXR. Woohoo! Ground control, one silver bullet coming your way. Of course nowadays, I actually look at the scenery more rather than just go from Point A to Point b in the fastest possible speed. But I was still overtaking everyone else on the road. What I'll also remember from the trip is the heat!!!!!!! Urrggh. Halfway on the way to Jasper, my old experiences from riding around Msia came back to me. Open the sleeve cuffs! Open the collar and unzip the jacket some!! (d'oh!) Cool off at the athabasca glacier! Between the glacier and Jasper, it was all a blur. I was squirming around already my butt having gone to Timbucktoo. Reach Jasper, checked into the hotel, went to the lounge, plunked down into a lazyboy with a beer and refused to budge after that...ahhhh... aircon....and beer.....
Day 2
Wake up, eat a full full breaky. Packed and headed back out to Calgary, 'cept I was going via Rocky Mountain House. I'd be turning off at Saskatchewan Crossing onto highway 11 to RMH then back to CGY. Heard there is some kind of lake between SC and Nordegg. Now it would have been a spectacular ride except by this point I was melting and so I was rushing to get to RMH and started to fly again. I had hoped Nordegg would be a bit more rustic and it was, but I was in no mood to hang around. Refueled and moved on. Nordegg to RMH was another blur of landscape. I was never happier to see a Macdonalds in RMH!!! Ahhhh the simple pleasure of a Quarter pounder, an apple pie and a large coke. Oh yes, cooling off in the aircon and resting my butt on a nice wide seat. That beemer has an enduro like narrow seat, great for the twisties, lousy for the straights...sigh.. good thing I had my Airhawk seat pad....The ride from RMH back to CGY, I passed through several quaint towns and when I reached CGY I got what I wished for! A big big thunderstorm!!! I and the bike was getting so plastered with bugs all over I was wishing for rain to a) Wash the bike b) Cool off. I got my wish!!!
1000 kms, 14 hrs riding in 2 days.
Now I just need to get out and ride more.....heh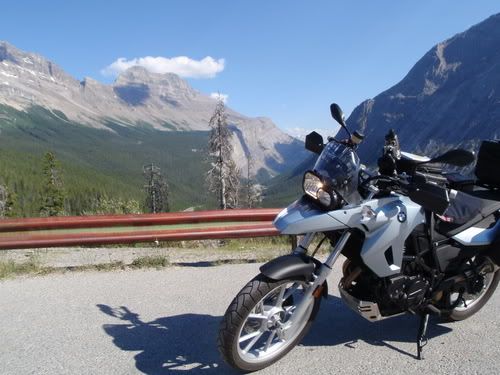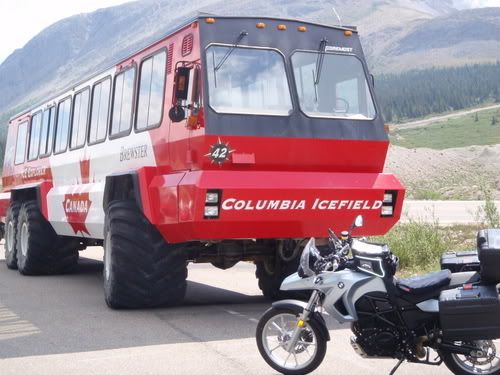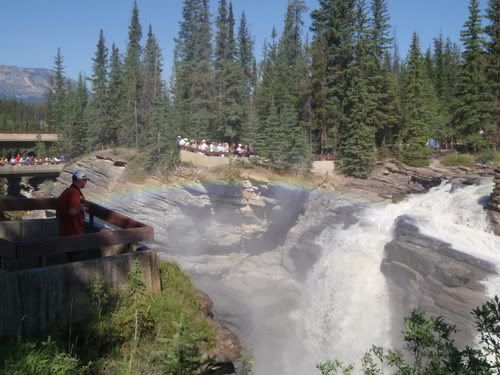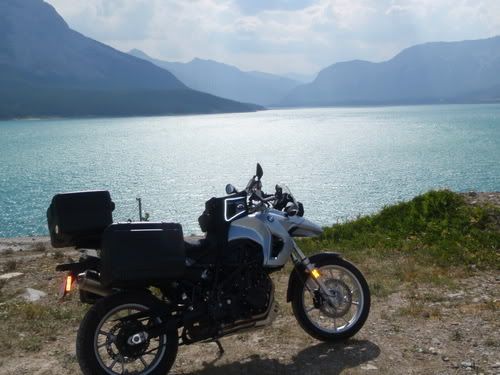 Comments:
I'm H. and I work in a company interested in blog advertising. I found your blog engaging and I'm contacting you to ask if you are interested in blog post sponsorship.
If you are interested, kindly mail back (k5ino@bigstring.com) and I'll send you pricing details, guidelines and processes. Looking forward to doing business with you.
Sincerely,
H.
Post a Comment
<< Home