Wednesday, August 06, 2008
Hmmm I think I miss this sometimes
I miss this sometimes, being (sorta) anonymous and spouting all the rhetorics I can spout without worrying about who is going to bite you back (yes I just got bitten, this might be a knee jerk reaction). So I think I will sporadically be back here, occasionally, sorta like a summer cottage, you come, you go when you like, kinda thing.
Anyways had a crazy weekend, mainly because mentally I was not up for it, but anyways, managed to climb two mountain passes, Guinn's at 8000ft and Buller's 8200ft in altitude, gasp, gasp, need air in my lungs. Although the actual elevation climbed was more like 5000 ft in total since we started at 5800ft anyways (I've since been slowly getting used to the higher elevation here, Calgary is already 3300ft). One thing I did managed to do very well is twist both my ankles mainly cos I was being careless in where I was putting my feet....interesting since I haven't had that happen in a long time. Oh well, nothing like anti-inflammatories to kill that. But I think its time to move on from backpacking trips to motorcycle camping.....
"You mean we have to climb THAT thing?"
And away we go
The view at the campground
"Oh look a Moose!"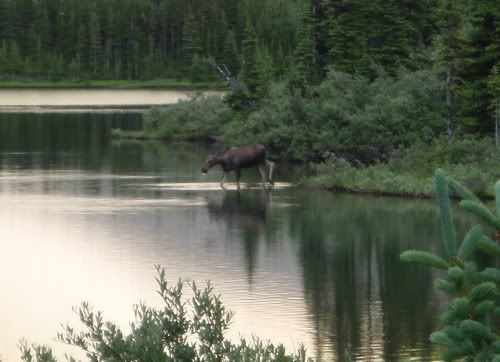 Goin' home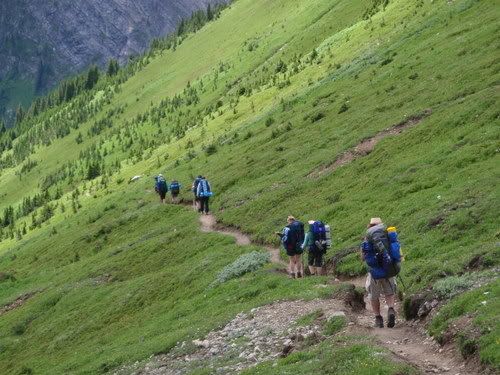 One of the many pretty little creeks we had to cross
Comments:
the views look amazing! glad you're up and about and doing well.
yeah I miss being anon sometimes, can't really rant freely if it involves people who know people who know people... you know what I mean... lol!
Post a Comment
<< Home